[ultimate_heading main_heading="Renal Transplantation" alignment="left"]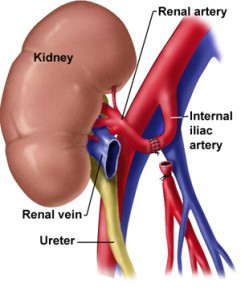 Renal transplantation is the treatment of choice for a minority of patients with end-stage renal disease (ESRD). Most adult patients with ESRD are never referred for evaluation for transplantation, and have a 70% 5-year mortality on dialysis. Marked improvements in early graft survival and long-term graft function have made kidney transplantation a more cost-effective alternative to dialysis. In the United States, over 375,000 kidney transplants have been performed, and in 2012, 191,400 patients were alive and with a functioning transplanted kidney. currently, more than 101,000 patients are waiting for kidney transplants.
Kidney Disease
When the kidneys stop working, renal failure occurs. If this renal failure continues (chronically), end-stage renal disease results, with accumulation of toxic waste products in the body. In this case, either dialysis or transplantation is required.
Common Causes of End-Stage Renal Disease
Diabetes mellitus
High blood pressure
Glomerulonephritis
Polycystic Kidney Disease
Severe anatomical problems of the urinary tract
Kidney Transplantation
The Living Donor
Sometimes family members, including brothers, sisters, parents, children (18 years or older), uncles, aunts, cousins, or a spouse or close friend may wish to donate a kidney. That person is called a "living donor."
Deceased Donor
A deceased donor kidney comes from a person who has suffered brain death.
Transplant Evaluation Process
Regardless of the type of kidney transplant-living donor or deceased donor-special blood tests are needed to find out what type of blood and tissue is present.
[/ultimate_heading]